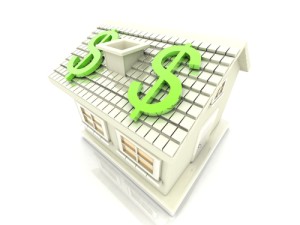 A common question sellers ask is "What can I do to get the maximum selling price on my home?" Since each home and every market is different, we, as your real estate professionals, can give you specific advice on your home. In general, however, if you're willing to spend a little bit on some minor upgrades, a higher return on your investment can be significant. We covered the "no-to-low cost" items in part 1 of this series and in this post we suggest some low to medium cost options for improving that selling price.
$$
If you have a little money to spend, the next items on your list should be these easy improvements:
Paint. In terms of "bang for your buck," paint is your best friend. Gone are the days when you should paint everything white, but covering smudged or dirty walls with a pretty neutral color (off-whites, grays, creams and earthy tones) brightens your walls, covers over a host of slight imperfections and freshens their look without breaking the bank. A contrasting color on trim and woodwork brings out architectural details. Add a new coat of paint on the ceilings — paint these white or a light off-white— to brighten and light up a room. Paint the front door, too! A bright, cheery front door adds a welcoming touch.
Update light fixtures. Ceiling lights, vanity lights and exterior carriage and porch lights are inexpensive items to update. Often, larger home-improvement stores offer "contractor packs" of multiple light fixtures for a lower price, so you can update all the rooms.
Change out electrical outlets and switch-plates. Simply updating outlets and outlet covers, light switches and switch-plates can give a home an updated appearance. As with light fixtures, electrical components often come in contractor packs. If you are not comfortable changing out the switches and outlets yourself and don't want to hire an electrician, just change out the covers.
Replace bath fixtures. New faucets, along with towel bars, hooks and other matching pieces bring a brand new look to most bathrooms. Make sure your shower curtains are clean, fresh and neutral. If you have the extra money, changing out the toilet for a new water-saving low-flow toilet is an effective upgrade. Along the same vein, if your lavatory sink is cracked, stained or chipped, you may want to switch it out for a new one.
Kitchen hardware and faucet. Just as simply adding new fixtures improves the bath, a new faucet and fresh, updated hardware on your cabinetry can freshen and upgrade the feel of your kitchen. Make certain that cabinet latches are not broken and drawer glides all work properly. Re-paint painted cabinetry and clean and re-stain finished wood cabinetry.
Fix or replace your front door. Sometimes paint is not enough. If your pets have scratched your front door, or it has dry rot, is swollen, or the layers are separating, consider replacing your door with a new one. In moisture prone areas, or for safety concerns, consider using a steel door, perhaps one with a decorative window. You can even give your steel door a wood look with a faux wood-graining kit.
Upgrade your garage door. Especially if your garage door is visible from the front of your home, consider painting or upgrading your garage door.
Let us help …
We can assess the potential R.O.I. for these and similar upgrades to your home. Call us for an evaluation of your home's fair market value.
Compliments of Virtual Results